---
Proven Performance
Not only has NextNav has conducted extensive testing of its system in a variety of common environments, we've subjected our system to the FCC's CSRIC Indoor Location Accuracy trial, side by side with other technologies. As we work to continually improve our system and extend our testing, check back for updated results.
CSRIC Trials Prove NextNav Performance for E911
NextNav submitted its technology to trial by the FCC-chartered Communications Security, Reliability and Interoperability Council. This demanding trial tested mission-critical location technologies in 75 indoor locations across urban, suburban and rural areas. NextNav was the only technology to demonstrate vertical performance, with median accuracy of 2 meters, or floor-level. And NextNav's performance was superior in horizontal accuracy also, delivering a search ring 90% smaller than that delivered by the other technologies tested. To learn more, click here. Our horizontal performance compared to the others in the trial is depicted in the image below.

Pervasive Horizontal Accuracy across an Entire Market
NextNav's system is not based on equipment installed in individual venues, but rather on a long-range beacon network with a reach of many kilometers. Our system covers every building within our coverage footprint, and is not limited by the availability of building-specific equipment.
The Only System With Demonstrated Height Performance
By using real-time, proximity-based pressure differential measurements, NextNav has demonstrated vertical accuracy of 1 – 2m. For devices equipped with an optional, low-cost pressure sensor, this capability could save valuable time in an emergency response, in a social networking situation or provide critical context for marketing purposes.
The following chart shows a tester with a device entering a structure, moving down the stairs and up an elevator.
Extremely Rapid Time to First Fix
The NextNav signal is very strong compared to a GPS signal, but similar in many other respects. GPS hardware optimized for pulling a very faint signal out of natural background noise can decode the stronger NextNav signal much more rapidly, resulting in a "cold start" TTFF of approximately 5 seconds. This is important for consumer applications, and critical for emergency response.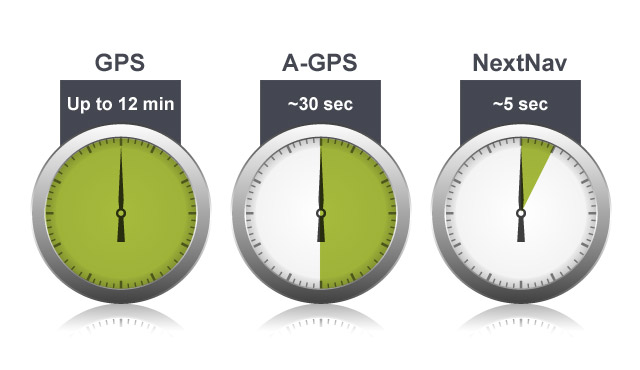 Very High System Yield—99% +
NextNav's system is designed to provide pervasive coverage across an entire market, and has a yield of over 95% in its network footprint. GPS is often available less than 50% of the time in these areas, and is virtually unavailable indoors.